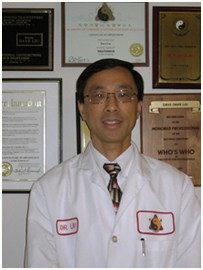 Prof. Dave Liu, OMD, Ph.D., L.Ac.
As a fourth generation Chinese Medicine doctor, Dr. Dave Liu began his education at home with his grandfather who operated an extensive herbal pharmacy, while teaching and maintaining a clinic. After many years of study with his family, Dr. Dave Liu attended and graduated from the Shanghai University of Traditional Chinese Medicine in Shanghai, China. Thirty years ago, Dr. Dave Liu immigrated to the United States and continued his studies to earn a Ph. D. in Oriental Medicine Research Advancement.
Dr. Dave Liu is a renowned educator and has been teaching Chinese Medicine for thirty-five years. Currently, Dr. Dave Liu is a professor of the Masters and Doctoral Program at American College of Traditional Chinese Medicine (ACTCM) at CIIS in San Francisco, and a professor of the Doctoral Program at University of East-West Medicine in Sunnyvale. He is also the President of the International Sea Style School of Chinese Medicine. As an esteemed international lecturer, he is invited as a guest speaker at many events throughout the year.
His specialities include Women's health especially Fertility support (with or without IVF procedure in conjunction), tinnitus and loss of hearing, and pain management for any type of musculoskeletal conditions using Myofascial Alignment Manual Therapy (MAMT) and acupuncture.
Dr. Dave Liu has enjoyed many years of success treating patients in the bay area in his private practice and views Chinese Medicine as his life's work. He is described to be attentive, highly knowledgeable, and providing exceptional care to his patients.